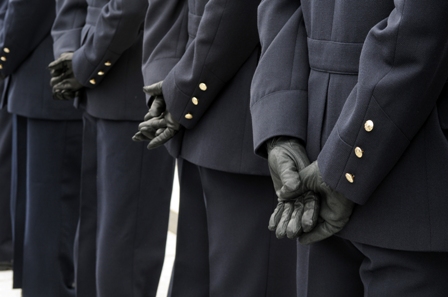 The office of Human Resources and People Development (HR & PD) is responsible for the recruitment, training, development and the management of Garda members and Garda staff.  The office is headed up by an Executive Director and consists of the following sections:
Garda HR & PD Section, Garda Headquarters, Phoenix Park
Garda Internal Affairs, Garda Headquarters, Phoenix Park
Garda Occupational Health Department, Garda Headquarters, Phoenix Park
Garda Professional Standards Unit, Garda Headquarters, Phoenix Park
Garda Training College, Templemore, Co Tipperary.
Garda HR & PD Section
Garda HR & PD is the lead section for policy development and strategic HR.  It is responsible for internal competitions, industrial relations, equality & diversity, overseas deployment, resource deployment and transfers, Garda Reserve, health & Safety and the employee assistance service.   It will make the following records available on the Garda website: 
Health & Safety system manual
Commissioner's Occupational Health & Safety Policy Statement
Memorandum Of Understanding (MOU) between An Garda Síochána and Health & Safety Authority
Occupational Injury Statistics for 2014
Hearing Conservation Programme
The Statutory instrument governing the Promotions S.I. 485/2006 – Garda Síochána (Promotion) Regulations 2006.
Code of Practice, Appointment to positions in the Civil Service and the Public Service by the Commission for Public Service Appointments (link to www.cpsa.ie)
Garda HR Directorate, Athlumney House, Navan:
HR Directorate  IDA Business Park, Johnstown, Navan, Co.Meath, C15 ND62 - 046 9036872
Resource Management HRPD.ResourceManagement@garda.ie - 046 9036893
Records HRM_Records@garda.ie - 046 9036835
Staff Competitions HRPD.StaffCompetitions@garda.ie - 046 9036375
Staff Transfers HRPD.GardaStaffTransfers@garda.ie - 046 9036893
Overpayments HRM.Overpayments@garda.ie - 046 9036880
Discipline HRM.gardadiscipline@garda.ie - 046 9036390
Staff Pay gardastaffpay@garda.ie 046 9036858
Staff Pensions gardastaffpensions@garda.ie - 046 9036884
Garda Pensions HRM.pensions@garda.ie - 046 9036841
Single Public Pension Scheme SPS (Post 2013) Garda Staff HRM.SPS@garda.ie - 046 9036394
Corporate Services HRNavan.CorporateServices@garda.ie - 046 9036857
HR Administration HRM.familyfriendlymembers@garda.ie - 046 9036825 /HRM.familyfriendlystaff@garda.ie - 046 9036821
Garda Sick Leave HRM_Sick@garda.ie - 046 9036887
Staff Sick Leave HRM.CivilianSick@garda.ie - 046 9036856
The Directorate is responsible for most of the administrative and transactional HR functions for all garda members and civilian staff. Among the HR functions administered by the Directorate are the external recruitment of staff, pay and pensions; sick absence, annual leave and family friendly schemes (maternity, parental, adoptive, carers leave etc), personnel records, administration and statistics.  The following records held by the directorate will be made available directly or information in how to access them will be given.
Health and Safety:
The Health & Safety Section assists and advises the Acting Commissioner with his statutory functions under the Safety, Health & Welfare at Work Act, 2005, including the development of policy, programmes and procedures relating to Occupational Health & Safety for An Garda Síochána employees and visitors to Garda premises.  The Section also monitors the implementation, roll-out and compliance with such policies and procedures and other relevant Health & Safety legislation and Regulations, to ensure the safety of all members and employees of An Garda Síochána and visitors to Garda Stations and other premises in the Garda Estate.
Overseas:
Personnel in the Overseas Office are responsible for the deployment of serving members of An Garda Síochána on secondment to the United Nations, European Union and OSCE (Organisation for Security and Co-Operation in Europe) on peace-keeping duty overseas, in co-ordination with the Departments of Justice & Equality and Foreign Affairs & Trade.
Members are selected for such duties and appropriate training is provided for the selected members prior to deployment.  A Head of Delegation is selected for the duration of the deployment, to ensure the members, who remain subject to the regulations and discipline code etc., of An Garda Síochána while deployed overseas, comply with same and to ensure and monitor the safety and welfare of the members while overseas.
Scott Medal Awards.
For more information on the Scott Medal Awards and the recipients please click here.

Sick Leave Section
All Sick Leave files/records will be releasable outside of FOI to the individual they relate to only.  
End of year statistics as reported to DPER and published on the DPER website http://hr.per.gov.ie/sick-leave/ showing sick leave rates and costs for both Sworn and Civilian staff.  
The 2013 - 2016 sick leave statistics can be found via the following link –
Public Service Sick Leave Statistics and Trends 2013 - 2016 
Public Service Sick Leave Regulations, Circulars, FAQs, Critical Illness Protocol Forms etc are listed on this link.
Competitions Support Unit
We will make available to individual staff members all information in relation to his/her interview on request, as appropriate.
While the best care has been taken to include all the relevant circulars, there may be additional circulars available on the Department of Public Expenditure and Reform website.