Back to list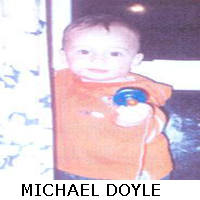 Name: MICHAEL DOYLE
Date Missing: 13/07/2004
Gender: Male
Height: 2'11" - 90 cm
Build: Weight: 11 kg (24 lbs)
Hair Colour: Brown
Further Information:
Date of birth: 3 May 2002 .

Case Type: Missing From Home.  Case Number: IRGSMK15.
 
 
Missing City: TULLOW.  Missing Country: Ireland. 
 
Michael Doyle also known as Michael Lyons aged 2 yrs is missing from Tullow, Co. Carlow since the 13th July 2004.  Information suggests that Michael may be in the U.K. travelling in a dark coloured van.