Back to list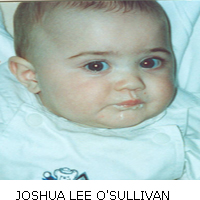 Name: JOSHUA LEE O'SULLIVAN
Date Missing: 26/04/2004
Gender: Male
Height: 2'0" - 61 cm
Build: Weight: 24 lbs (11 kg)
Hair Colour: Brown
Further Information:
Date of birth: 7 October 2002.

Case Type: Concern for Welfare.   Case Number: IRGSMk2305.

  
Missing City: TRALEE.  Missing Country: Ireland. 


Joshua Lee O'Sullivan was 17 months old when he went missing on the 26th April 2004, from Naples, Italy in the company of his father.  When last seen Joshua was in the company of his father Ioan Tanasse (alias - Marcel Manolacke) and his extended Romanian family in a gypsy camp.