Back to list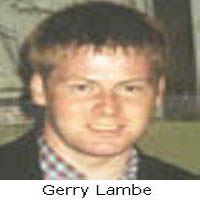 Name: Gerard (Gerry) Lambe
Date Missing: 16/02/1998
Gender: Male
Height: 5'9" - 1.75 cm
Build: Stocky build
Hair Colour: Short red hair
Further Information:
Gerard (Gerry) Lambe from Deansgrange, Co. Dublin has been missing since February 1998.
On Monday 16th February 1998 Gerry left his home at Clonkeen Road, Deansgrange. He was last seen at 6pm that evening.
He is described as 5'9'' in height, of stocky build with short red firery hair. He has freckles on his face and an indentation on his left cheek.