Back to list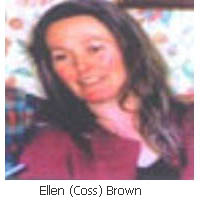 Name: Ellen Coss (nee Brown)
Date Missing: 03/11/1999
Gender: Female
Height: 5'3" - 1.60 cm
Build: Light build
Hair Colour: Long brown hair - going grey
Further Information:
Greater Manchester Police have requested the assistance of the Gardai in trying to establish the whereabouts of Ellen Coss (nee Brown) who has been missing since Wednesday 3rd November 1999. When last seen she was boarding a train at Manchester to take her to Holyhead. It is believed that she intended to travel from Holyhead to Dublin by boat.
Date of birth - 30/4/49.  Ellen resides at Ballyfermot Avenue, Dublin and was visiting her sister in Manchester when she went missing.
She is 5 feet 3 inches tall, of light build with long brown hair (going grey).