Back to list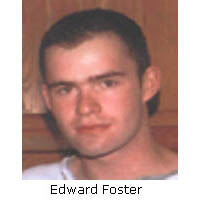 Name: Edward Foster
Date Missing: 04/09/1999
Gender: Male
Height: 6' - 1.83 cm
Build: Not Specified
Hair Colour: Short brown hair
Further Information:
Edward Foster is missing since 4th September 1999.
Edward is from Loughrea, Co. Galway. He was born in December 1978 and is described as 6 feet in height with short brown hair and brown eyes.
He was last seen at Dublin Port where he was due to board a car ferry for the UK. However, it was never established if he actually travelled on the ferry.