Back to list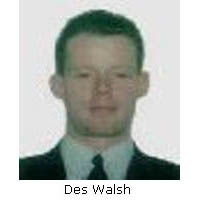 Name: Des Walsh
Date Missing: 17/09/1999
Gender: Male
Height: 5'6" - 1.67 cm
Build: Thin build
Hair Colour: Brownish/red hair
Further Information:
Date of birth - 8/1/74.  Des Walsh from Limerick has been missing 17th September 1999. On that date he failed to turn up for work at the Dell Computer factory at Raheen but was later seen that evening at O'Connell Street, Limerick.
Des was aged 25 at the time he went missing. He is described as 5'6" tall, of thin build with brownish/red hair, blue eyes and a pale complexion.