Back to list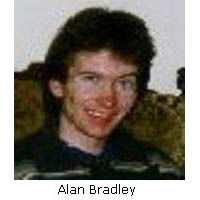 Name: Alan Bradley
Date Missing: 25/11/1999
Gender: Male
Height: 5'8" - 1.73 cm
Build: Slim build
Hair Colour: Long hair dyed black
Further Information:

Date of birth - 16/11/75.  Gardai at Maynooth, Co. Kildare are seeking information that might help establish the whereabouts of Alan Bradley who was last seen on 29th November 1999.
Alan is from Cluain Aoibhim, Maynooth. He is 5' 8" tall, of slim build with green eyes. At the time of his disappearance he had long hair dyed black and was wearing silver ear studs and earrings and a number of silver rings on both hands. In the past he has been involved with environmental protest groups and had associated with "new age traveller" and "Eco Warrior" type groups.