Back to list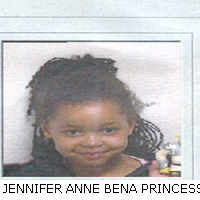 Name: JENNIFER ANNE BENA PRINCESS
Date Missing: 03/12/2004
Gender: Female
Height: 3'3" - 100 cm
Build: Weight: 40 kg (88 lbs)
Hair Colour: Brown
Further Information:
Date of birth: 3 June 1998
 
Case Type: Concern for Welfare.    Case Number: IRGSMK805 

Missing City: TRALEE.  Missing Country: Ireland.
 
Jennifer Anne Bena Princess a native of Congo is missing from her accomadation at Dingle Road, Tralee, Co. Kerry.  She has been missing since 3/12/04, information suggests that she maybe in the UK.