Back to list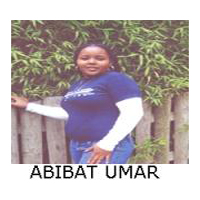 Name: ABIBAT UMAR
Date Missing: 10/04/2006
Gender: Female
Height: 5'2" - 158 cm
Build: Weight: 168 kg (370 lbs)
Hair Colour: Brown
Further Information:
Date of birth: 9 August 1988.

Case Type: Concern for Welfare.   Case Number: IRGSMK1806.

Missing City: DUBLIN.  Missing Country: Ireland. 

Abibat Umar, a native of Nigeria is missing from her accomadation at Main Road, Tallaght, Dublin 24 since the 10th April 2006.  When last seen Abibat had her baby daughter with her (Aishat Umar) D.O.B. 18/04/2005.